Mirasol Springs will set a new standard for environmentally focused Hill Country development.
Land conservation and ecological restoration has driven the design approach at Mirasol Springs. We aim to ensure that continuous open spaces remain protected in partnership with hospitality offerings and conservation homesites. Only 40% of the total available lands will be developed, which includes the Inn, amenities, homes, roads and other operational structures. We plan to accomplish these goals through a balance of conservation, preservation and restoration of the land's diverse ecosystem.
The site will also honor the natural beauty of the land through limited impact to existing tree coverage, topographical features and hydrological patterns. Detailed attention has been paid to tree preservation. Preserving existing hydrology and the biological role of water both above and below ground is a driving force in designing the structures, roads, and landscapes of this project.
Responsible land development begins with an intimate knowledge of the land and its waters. As we embark on the next phase of land stewardship, we do so carrying a land ethic that extends well beyond the construction site and seeks to restore and increase biological diversity to the areas most impacted by those who preceded us. Mirasol Springs will strive to ensure environmentally thoughtful development and land conservation throughout the entirety of the project. Revegetation and reestablishing native plant diversity is fundamental to this objective at construction sites as well as in grasslands that have been historically disturbed by traditional agricultural practices and overgrazing.
Our goals will be to increase biodiversity, improve ecological function, remove and replace invasive species, improve soil health and its ability to absorb and store water, curb erosion and sediment flow, increase nutrient cycling, improve habitat functions, and mitigate hazards from flooding, wildfire and drought.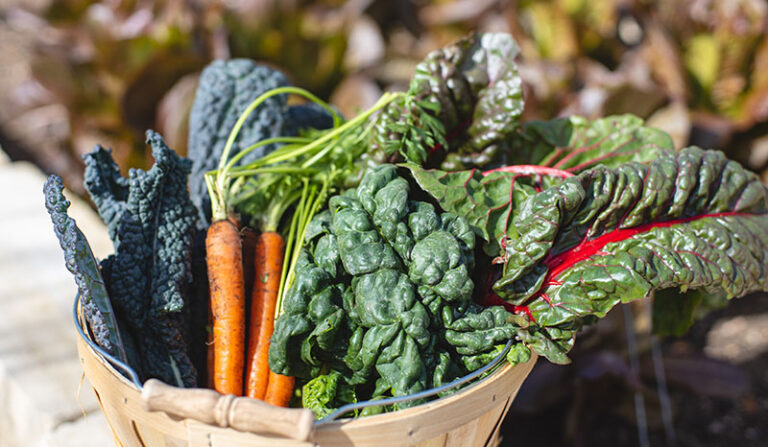 The farm is central to the Mirasol Springs hospitality experience but also a case study in land conservation on the property. The 15 acre plot will be a fully organic facility using a bio intensive farming method so that run-off has zero impact. Bio-intensive farming increases soil moisture absorption and retention, requires fewer inputs, and produces healthier, resilient crops with no need for harmful pesticides or fertilizers. Deeper soil, enriched with compost and other organic matter, supports a richer, more biodiverse soil biology that serves in part to contain nutrients vital to crops but harmful to streams and rivers.
The bio-intensive method produces much more food per unit of land than traditional farming practices, reducing the agricultural footprint and soil disturbance. The farm will produce a significant surplus of fresh fruits and vegetables for food bank donations as well as establishment of a community supported agricultural subscription service that will provide weekly delivery of farm fresh food to local residents. All landscape waste from the property will be processed and composted onsite, including leaves, lawn clippings and woody material, which will be used to enrich the vegetable farm.
Work to restore the native Hill Country landscape has already started at Mirasol Springs with more plans for the future. Efforts are underway to begin eradicating two invasive, non-native species of grass, Australian bluestem and King Ranch bluestem, and restore those grasslands to native grasses and wildflowers. Both invasive species were originally introduced to the property as forage crops for cattle, and have established large, dense populations which have choked out the native biodiversity of the original grasslands.
We are also working with restoration ecologists to trial experimental plots with different combinations of grazing, controlled burns, mowing and seeding. Our goal is to establish the most effective methods for reviving native wildflowers and inviting pollinator species like native bees and butterflies back to the land. We understand that improving the ability of plant communities to filter and absorb water as it moves across the land while increasing biodiversity is perhaps the most important work we can invest in.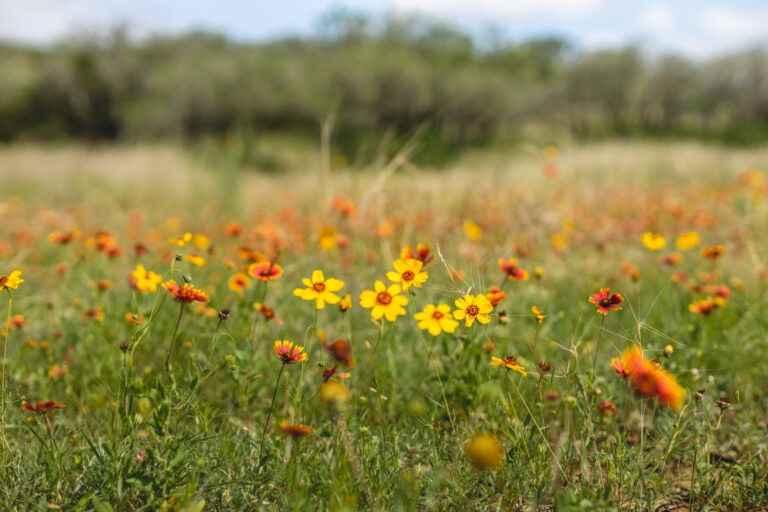 Other efforts to date include:
Watershed Protection and
Storm Water Runoff
We view the entire property on a watershed-wide scale, where every part makes up the whole. The ultimate goal is to maintain the hydrology of the environment in its current state, both in water quality and quantity. This will be accomplished through short-term construction site management strategies that include silt fencing, soil berms and wattles to prevent erosion and silting of nearby streams.
Most importantly, our team will devise long-term guidelines for proper soil grading, soil preparation, and re-establishment of native plant communities within the construction site through seeding and transplanting. Considerations will also include restrictions on impervious cover to prevent run-off and divert water into the aquifer. We are attentive to the seasonal quantity of water flowing into a given waterway, and that any hydrology efforts will be informed by that natural system.
Water runoff is also a major focus of development, and the project will be installing and maintaining erosion and sediment controls around any earth disturbance throughout the duration of the project that could lead to runoff entering any body of water. It is important to note that no runoff or waste water from Mirasol Springs will impact Hamilton Pool.
Long term planning for the project is focused on intensive storm water management, which relies on avoiding concentration of flow by maximizing dispersal of overland flow and encouraging natural filtration by plants and soil absorption and storage.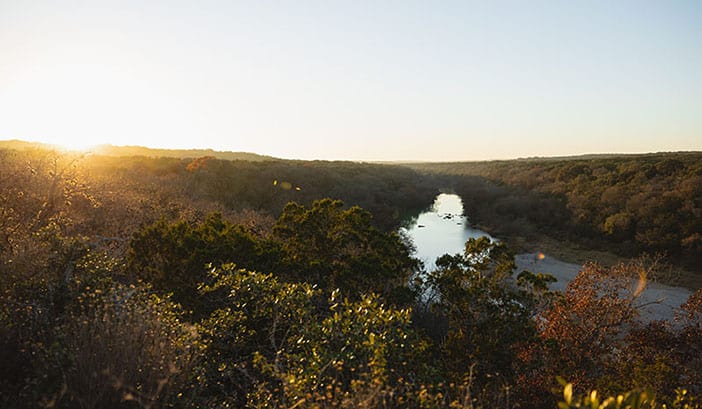 Water conservation has been a central focus for Mirasol Springs since the planning process began. Our team recognizes the importance of this critical resource and the responsibility of designing a proactive water management system that will serve as a model for development in the Texas Hill Country.
Responsible water planning requires a conjunctive management of resources, maximizing use and investing in recycling or re-use concepts for both domestic demand and irrigation. Our team believes in maximizing the lifecycle of water through integrated use and eliminating waste. Open space dedication and low intensity development will also reduce the overall water requirements.
Mirasol Springs will utilize four different water sources:
Mirasol Springs will utilize surface water from the Pedernales River when the river elevation is able to accommodate. When river elevations are high, Mirasol Springs will divert additional water to off-channel storage.
This approach takes advantage of conditions when surface water is plentiful and reduces waste from downstream release in flooding conditions. Storage will also create a new habitat for birds, flora and fauna.
When surface water is not available and diversion is curtailed by the LCRA, Mirasol Springs will utilize groundwater to service the demand for domestic use and limited irrigation. Good stewardship of groundwater resources will be supported through additional planning and holistic water management measures.
Water availability studies have demonstrated that adequate groundwater is available from the underlying aquifer to supply the estimated demand of the project.
Mirasol Springs will reclaim wastewater from the Inn and related hospitality structures in a centralized collection facility that is aesthetically integrated into the landscape. The facility will be equipped with the best technology available for nutrient removal and will reclaim 100% of the effluent for irrigation uses. This wastewater will be treated and used to offset irrigation needs for the property and other non-potable uses. Also known as beneficial reuse, this process completes the effort to maximize the lifecycle of water usage onsite.
Conservation home sites will utilize individual septic systems that follow or exceed industry standards.
Rainwater catchment from rooftops will be a requirement for all structures constructed across the property, a practice that is already in use on the ranch.
Deed restrictions for home sites will include water capture for irrigation purposes and guidelines for non-water intensive vegetative covers, water conservation-oriented landscapes and xeriscapes.
Traffic, Evacuation and
Wildfire Management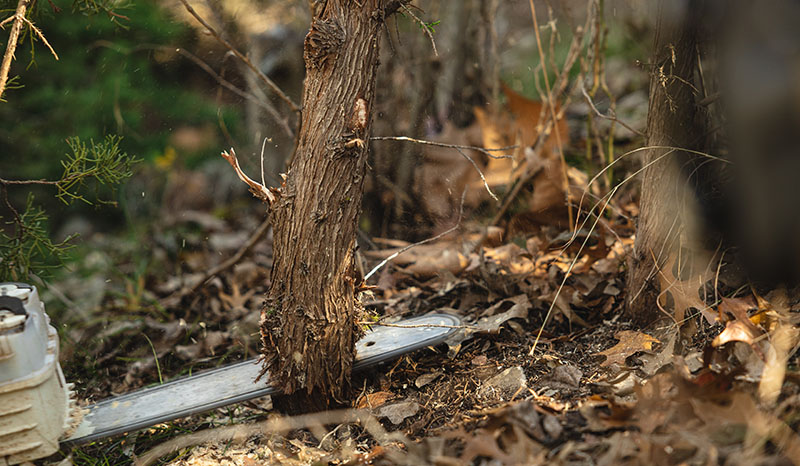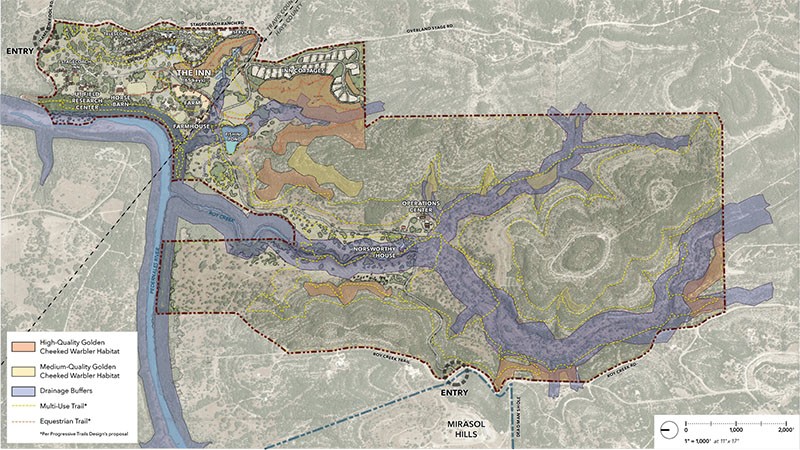 As part of the entitlement process for this project, coordination with Travis and Hays Counties is required to evaluate the traffic/transportation aspects of the proposed development.
We recognize the challenges of the roadway network within this area of Travis and Hays Counties and are committed to working with the Counties to create a development that is of mutual benefit to all parties.
As we progress with the evaluation of this project we will continue to provide updates.
For years the Hill Country has seen expanded light pollution from Austin and the surrounding region. At Mirasol Springs we will follow guidelines set forth by the University of Texas McDonald Observatory in Fort Davis, Texas, a leader in dark sky initiatives for both industry and residential settings.
All of these recommendations will be observed at Mirasol Springs, from walkway lighting to street illumination, ensuring that light pollution is removed from the environment to create a hospitable setting for astronomy. Mirasol Springs investment in dark skies initiatives will also create a wonderful setting for stargazing events as a hospitality offering for visitors.
Their core recommendations include: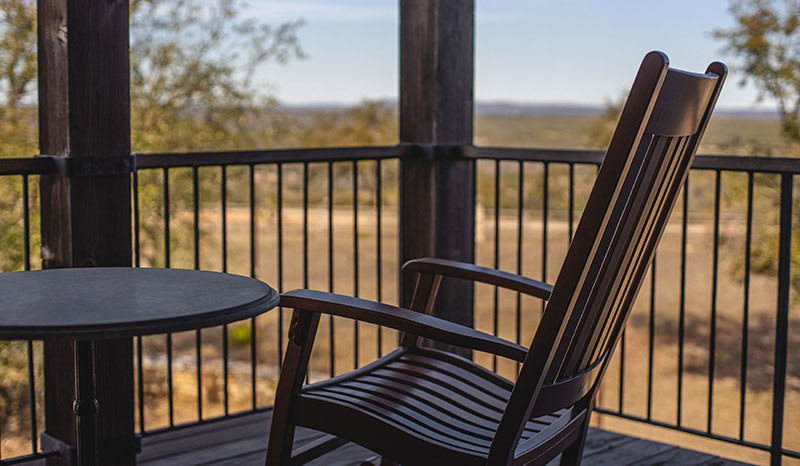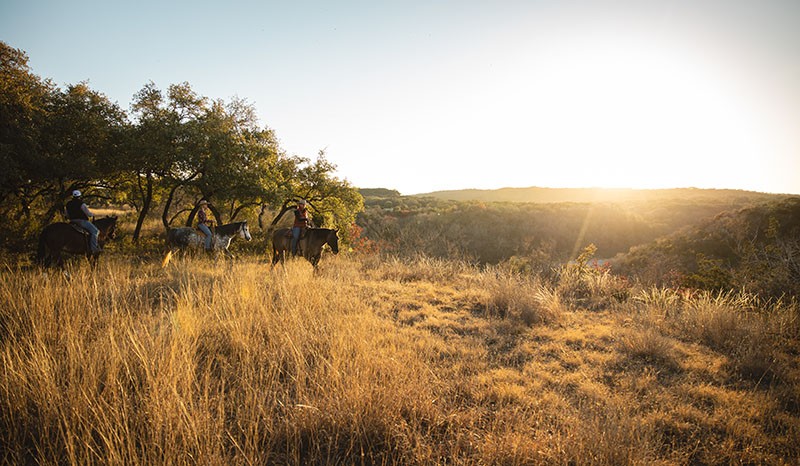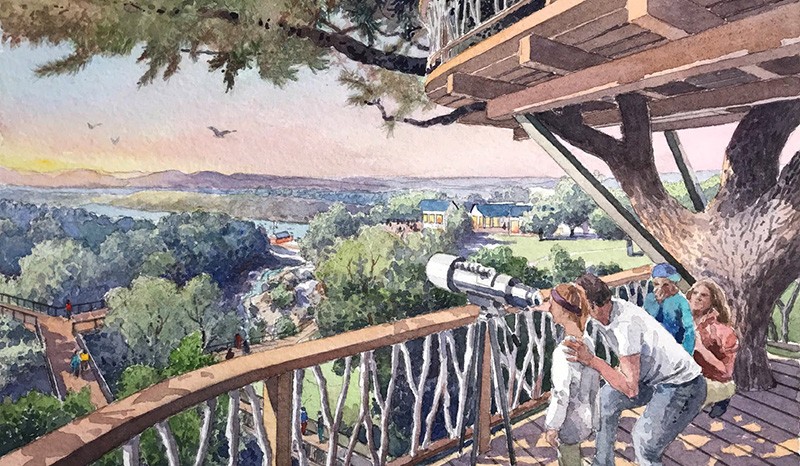 Low Density Residential Planning
Mirasol Springs has been intentionally designed with unusually low density residential layout to meet the vision of the project. Urban sprawl from Austin and surrounding cities has long been a concern of local residents in the immediate region. Mirasol Springs, as proposed, would achieve ideal development to land preservation ratios for generations in the future and meet our vision.
Conservation home sites will be reviewed and approved by a Mirasol Springs Architectural Standards Committee. The intention will be to create precedents that embrace the character of the Hill Country, where building and nature blend together as one experience. These guidelines will include the approval of home placement within a site as well as locations of foot paths, footbridges, gates, walls and signs.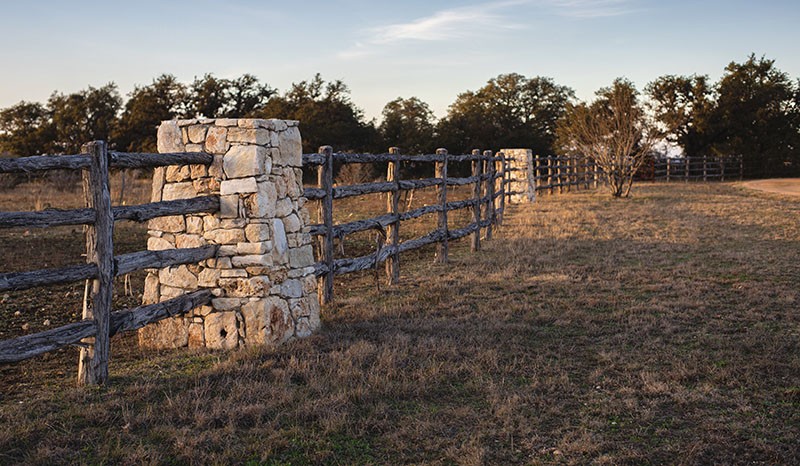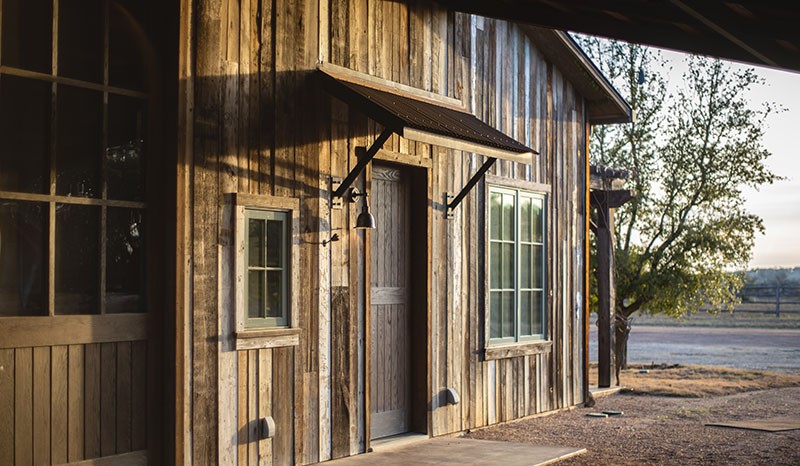 The first phase of development, which includes the permitting and entitlement process is underway. Construction is expected to begin in summer 2022 with anticipated opening in summer 2024.